Knowledge Hub
Join the Conversation!
Impartial and independent, ThoughtLeaders4 FIRE Knowledge Hub hosts cutting edge industry content and insight.
Email maddi@thoughtleaders4.com to submit content.
Covid-19: A Perfect Storm over the Courts System
Date: 15/07/2020
Type: Articles
Topic: FIRE | International | Enforcement |
The COVID-19 crisis has caused a perfect storm in which the increase in commercial disputes, fraud-related behaviours and insolvencies has come hand-in-hand with the impossibility of the judicial system to deal with them, as the crisis has also prevented the courts from operating normally.
Faced with this extraordinary situation, many countries have been forced to enact emergency legislation to cope with these difficulties, as well as to avoid judicial collapse once the courts can function again.
Interestingly, some of these legal reforms, despite being presented as momentary responses to an exceptional situation, actually hold the potential for structural change. I am referring to legal changes that, predictably, are here to stay, but also to adjustments in our professional behaviour.
Remote hearings
One of the most obvious changes caused by the crisis has been the forced introduction, in many countries, of remote hearings. In Spain, for example, a regulation that came into effect on April 30 requires that hearings during the current state of alarm -and up to three months after its completion- be held through videoconference whenever possible.
From a pure technical point of view, the courts are prepared for this, although with the logical need for practical adaptation. However, there are doubts as to the full adequacy of remote hearings in certain cases, either due to the complexity of the matter, or due to the difficulties in ensuring respect to the due process of law, notably fair and equal treatment.
Having said this, it is foreseeable that practice will allow us to delimit the cases in which a remote hearing is perfectly adjusted to the needs of the case. For this reason, we can imagine a not too distant future in which it is normal not to have to go to court in certain occasions that, to date, required us to do so -out of physical necessity but, above all, out of habit. This is a change that, in my view, we need to embrace, as it will undoubtedly contribute to a better case management, provided that it is used in cases where remote activity is truly adequate. For this reason, we need to get used to this change and make the effort to adapt to a new reality.
Insolvency measures
Other possible structural changes have to do with the legal treatment of insolvency. The measures recently adopted in Spain aim to prevent the current COVID-19 crisis from causing the massive closure of businesses and an avalanche of winding-up proceedings. For this purpose, our Insolvency Act has been modified to restrict the cases in which the insolvent debtor has the obligation to apply for liquidation. Thus, the circumstances that allow the renegotiation of restructuring agreements have been relaxed, if and when the debtor foresees difficulties in complying with them, in order to avoid leaving liquidation as sole alternative. Likewise, these measures will be in force during the state of alarm and within a year following its declaration. This means that they also have a potential for structural change in the short to medium term that could mean their definitive implementation in the Spanish insolvency system. This would be positive for the protection both of debtors and of creditors.
Our role as professionals
Finally, a few words about our role as litigation and insolvency professionals. Our way of working can also change structurally with this crisis in a positive way. It has always been said that the role of the advisor is to be as close as possible to his or her clients. Well, there is no better time than this to do it. Our clients need more quality guidance than ever. The scenarios are uncertain. At the same time, anxiety and the need for answers are high. With our capacities to act judicially very limited, our professional ability to provide effective answers will be tested. On many occasions, there will be no immediately workable solutions. However, even under seemingly impossible challenges, we will be able to demonstrate to our clients our willingness and ability to support them. For this reason, we have the opportunity to approach our clients in a way that is both professional and, above all, human. An approach where the promotion of our services is not the priority, but the need to listen, to empathize, to share our concerns and to add value, before expecting anything in return. A way in which the priority is to strengthen relationships, to overcome difficulties together and not to sell ourselves. A way in which preparing the future is as important as navigating the present difficulties. If we do so, our clients will be able to distinguish those professionals who accompanied them effectively in complex circumstances and those who didn't. At the same time, we will have the opportunity to use an important set of skills that will allow us to continue to thrive and prosper when this crisis passes.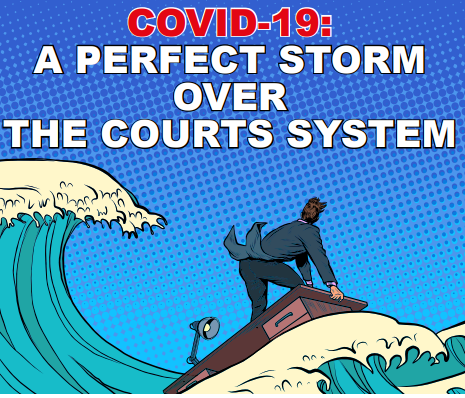 Author
Hector Sbert - Lawants (Spain)

Our FIRE Community Partners