Knowledge Hub
Join the Conversation!
Impartial and independent, ThoughtLeaders4 FIRE Knowledge Hub hosts cutting edge industry content and insight.
Email maddi@thoughtleaders4.com to submit content.
English Courts: At the Forefront of Fighting Fraud
Date: 15/07/2020
Type: Articles
Topic: FIRE | Civil Fraud |
As fraud continues to be rife, it is important to develop new tools and strengthen existing mechanisms to enable claimants to pursue, locate and enforce against fraudsters and their ill-gotten assets. Over the past few years, the English Courts have continued to develop the law in this area. We set out below a non-exhaustive snapshot of some of these developments in three areas. These highlight the progress continuing to be made in the fight against fraud, and bodes extremely well for the future.
Fraud claims
Before even considering the vast array of measures available in support of fraud claims, a potential claimant needs to establish a cause of action and a party to target. What happens, however, where the victim does not know the identity of one or more of the fraudsters? The last few years have seen an increased use of the 'Persons Unknown' jurisdiction for this purpose. Whilst often seen in cybercrime cases[1], this jurisdiction has a wider application and can equally be used in more 'traditional' fraud cases. For example, in Vneshprombank v Bedzhamov, we commenced the claim not just against both the alleged fraudster and some of his alleged corporate vehicles but also 'Persons Unknown'. This enabled the claimant in that case to obtain freezing order relief against all such known and unknown defendants.
The Vneshprombank case is also noteworthy for the issue of an anonymised claim form. Faced with potential limitation deadlines before an application for without notice ex parte relief could be issued, the court permitted the claim form to be anonymised pending that application. This protected against both asset dissipation and the £1.3bn claim from expiring due to limitation. The respondent was unaware of the issued claim for a number of months before he was then served with ex parte freezing and search orders.
Ancillary liability
It can sometimes be the case that the route to recovery is best served by targeting third parties as well as or instead of the primary fraudster/s. Banks and other financial institutions can often find themselves in the firing line, and there have been a host of interesting developments in this area of the law. That, however, is deserving of an article in its own right.
In the meantime, it is apparent that more egregious third parties – the fraudster's associates and the like – are increasingly the subject of new and developing causes of action, with two such cases having reached the Supreme Court. In the first of those, contempt of court constituted unlawful means within the tort of conspiracy to injure by unlawful means (involving dealing with assets in breach of freezing and receivership orders)[2]. The second case was heard in early May, and involves whether the rule against reflexive loss bars creditors of a company from claiming directly against a third party for asset-stripping a company (itself a newly advanced tort)[3].
Asset disclosure
Whether in support of a freezing injunction or for the purpose of enforcement, asset disclosure orders can be a very powerful weapon. There have been some helpful developments regarding such orders. First, there has been an increasing movement away from considering legal and beneficial ownership to questions of control over assets. Second, asset disclosure has been required of all assets (including those in excess of the amount frozen), in order to ensure that any changes in value or intentional choice of hard-to-reach assets would not cause prejudice[4]. Third, where asset disclosure is insufficient, the Court is willing to embrace other relief to achieve the same objective. For example, in Lakatamia v Su, the claimant obtained an order that the defendant sign mandates to his email and social media providers to disclose details of his accounts to identify assets against which a judgment could be enforced and to give effect to injunctive relief[5]. Indeed, in such cases, the court may be willing to debar a defendant from participating in proceedings. This is available not only for inadequate asset disclosure but disclosure in the substantive proceedings and can be an effective tool in fraud claims.
The future…
Whilst there is a lot of uncertainty in the current climate as to what the future may hold, one thing that is clear is that fraudsters will continue to operate and innovate and that the law will need to meet this challenge with similar resolve. Whilst we have no doubt that it will do so, some interesting questions will arise along the way. For example, practitioners will need to develop solutions to the potential practical issues involved in implementing search orders in times of social distancing and self-isolation. Similar considerations will arise when personal service is required, such as in committal proceedings. Meanwhile, in a freezing order context, how will ordinary living expenses be assessed when a respondent's recent spending spans pre- and post-lockdown? Will remote hearings remain the default position, such that cross-examination on asset disclosure and oral examination of judgment debtors takes place via video link as a matter of course? The list goes on.
Whilst this whistlestop tour barely does justice to the variety of tools and developments in the court's armoury, what it does show is the English Court's willingness in appropriate cases to embrace innovative responses to fraud and assist victims vindicate their rights. It is for such reasons that the English Courts often continue to be the court of choice for such cases.
---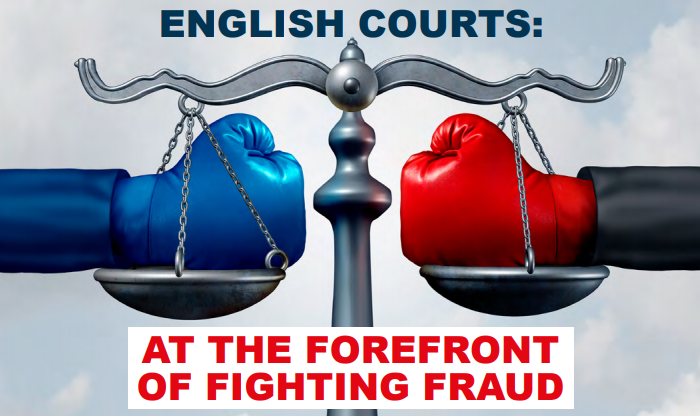 Author
Jon Felce, Natalie Todd & Anastasia Tropsha - PCB Litigation

Our FIRE Community Partners