Knowledge Hub
Join the Conversation!
Impartial and independent, ThoughtLeaders4 FIRE Knowledge Hub hosts cutting edge industry content and insight.
Email maddi@thoughtleaders4.com to submit content.
FIRE Magazine Issue 12 - FIRE Starters Edition 2023
Date: 03/03/2023
Type: 60 seconds with Articles Community Magazine Main Issue
Topic: FIRE | Insolvency | Civil Fraud | International | Enforcement | Offshore | Asset Recovery |
Our first issue of 2023 is here, and we are thrilled to present the FIRE Starters Edition 2023, in conjunction with the FIRE Starters Global Summit that recently took place in Dublin. In this topical edition, our practitioners delve into the domino effect of Crypto collapses, sanctions, APP fraud, and lessons from recent cases. Our issue also features a series of 60 seconds with interviews, where our FIRE Starters community give us insight into some of their thoughts around and beyond work.
As we gear up for another busy year in the FIRE community, we thank all of our partners, contributors and members for their support. We look forward to seeing many of you throughout the course of 2023!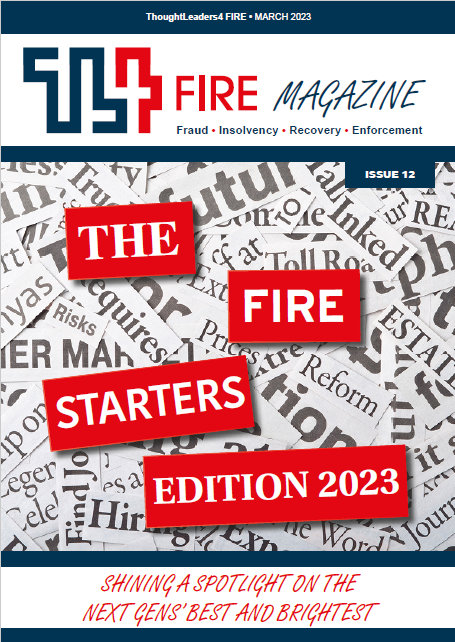 Author
ThoughtLeaders4 FIRE

Our FIRE Community Partners