Knowledge Hub
Join the Conversation!
Impartial and independent, ThoughtLeaders4 FIRE Knowledge Hub hosts cutting edge industry content and insight.
Email maddi@thoughtleaders4.com to submit content.
FIRE Magazine Issue 14 - Contentious Insolvency Edition 2023
Date: 22/09/2023
Type: 60 seconds with Articles Community Magazine Main Issue
Topic: FIRE | Insolvency | Civil Fraud | International | Enforcement | Offshore | Asset Recovery |
We are well and truly back from the summer break, so with that we are delighted to present Issue 14 of FIRE Magazine, our 'Contentious Insolvency' edition for 2023. Alongside a series of 60 seconds with interviews with some of our community partners, we hear from a number of authors discussing what is going on in their jurisdiction, from the UK to Singapore, BVI, Hong Kong, Switzerland and more. Our contributors provide a number of relevant updates including recent cases such as Stephen Hunt v Jagtar Singh and Re Lam Kwok Hung Guy, and other topics discussing crypto, litigation funding agreements, enforcement and more. This issue also features the winning essay for the International Law Book Facility (ILBF) essay competition, with a foreword from our community partner, and trustee of the ILBF, Jane Colston of Brown Rudnick.
Thank you to our community partners, contributors and members for their support, we look forward to staying in touch as we delve into a busy Q4 for all FIRE practitioners.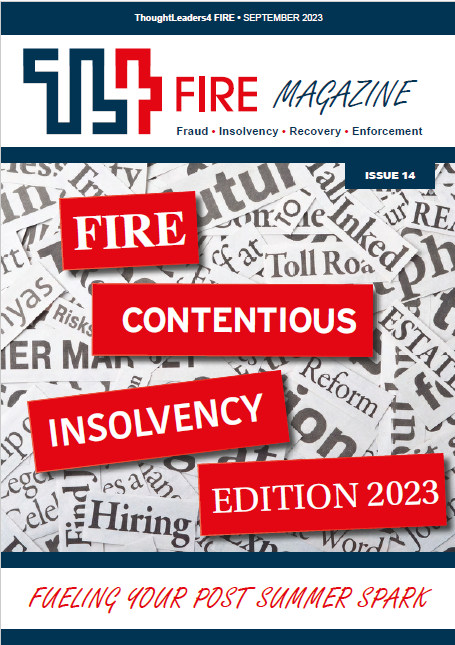 Author
ThoughtLeaders4 FIRE

Our FIRE Community Partners