Knowledge Hub
Join the Conversation!
Impartial and independent, ThoughtLeaders4 FIRE Knowledge Hub hosts cutting edge industry content and insight.
Email maddi@thoughtleaders4.com to submit content.
FIRE Magazine Issue 9 - FIRE International 2022 Vilamoura Edition
Date: 20/05/2022
Type: 60 seconds with Community Magazine Main Issue
Topic: FIRE | Insolvency | Civil Fraud | International | Enforcement | Offshore | Asset Recovery |
We are delighted to present Issue 9 of FIRE Magazine in conjunction with the flagship Asset Recovery event for 2022, FIRE International in Vilamoura, Portugal.
In this FIRE International edition, our authors provide insight from the UAE, UK, BVI, Switzerland, India, US, Cyprus and Australia on issues and updates affecting FIRE practitioners. We also hear from some of our speakers at FIRE International in our series of 60 seconds with interviews.
We are also delighted to feature a supplement for the International Law Book Facility Essay Competition where we hear from Jude D'Alesio of Bristol University, the winner of the competition and his insightful essay that earned him an internship at Brown Rudnick.
Thank you to all of our members and community partners for their continued support, we hope you enjoy this abounding FIRE issue.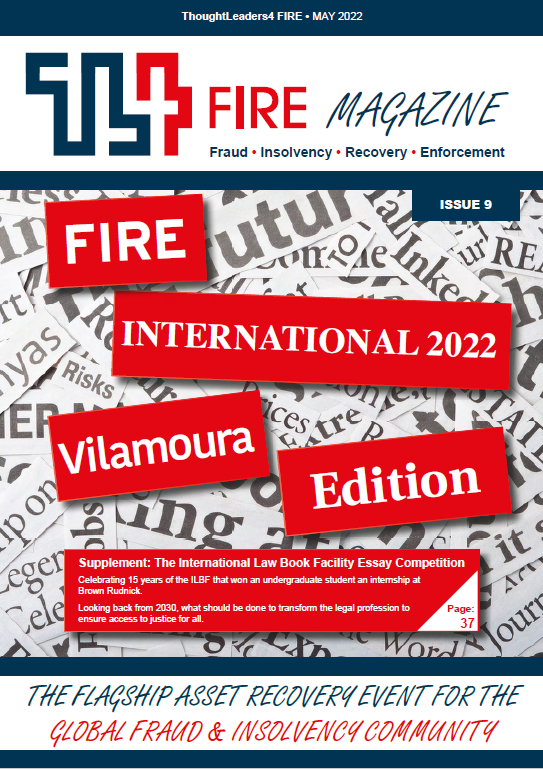 Author
ThoughtLeaders4 FIRE

Our FIRE Community Partners