Knowledge Hub
Join the Conversation!
Impartial and independent, ThoughtLeaders4 HNW Divorce Knowledge Hub hosts cutting edge industry content and insight.
Email maddi@thoughtleaders4.com to submit content.
29 Bedford Row Extends Community Partnership
Date: 01/02/2021
Type: ThoughtLeaders 4 Content Announcement
Topic: HNW Divorce |
ThoughtLeaders4 is pleased to announce that 29 Bedford Row have extended their HNW Divorce Community Partnership for a 2nd year.
"The ThoughtLeaders4 approach is unique and their future plans align perfectly with our strategy."
Senior Clerk James Shortall
"We were excited to partner with the HNW Divorce Community on its launch last year as we share ThoughtLeaders4's fresh and innovative approach. We're therefore very pleased to have renewed our support."
Alexis Campbell QC and Nicholas Allen QC, Joint Heads of Chambers
"Our HNW Divorce Community has evolved considerably during the last 12 months and we wish to thank 29 Bedford Row for their ongoing support. Our membership continues to grow at a pace and we have many exciting plans ahead."
ThoughtLeaders4 Director Chris Leese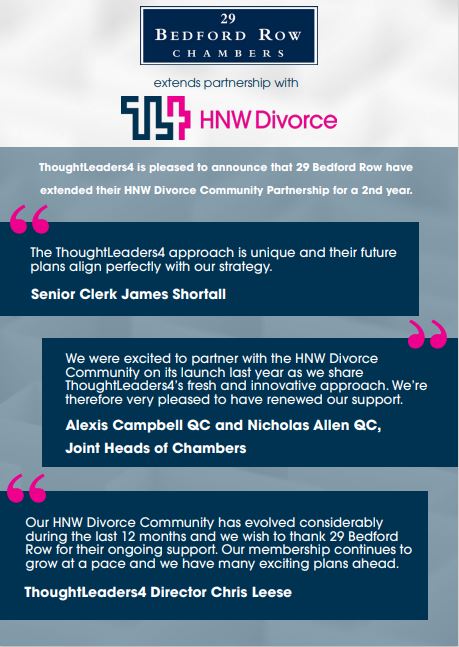 Author
ThoughtLeaders4

Our HNW Divorce Community Partners