Knowledge Hub
Join the Conversation!
Impartial and independent, ThoughtLeaders4 HNW Divorce Knowledge Hub hosts cutting edge industry content and insight.
Email maddi@thoughtleaders4.com to submit content.
The current obstacles facing intended parents in UK/US international surrogacy arrangements
Date: 12/05/2020
Type: Articles
Topic: HNW Divorce | Children | Modern Family |
Although both altruistic and compensated surrogacy in the England is legal, it is important to note that English surrogacy contracts are not legally enforceable and therefore wholly reliant on goodwill for their execution. This lack of enforceability, combined with the paucity of English surrogates, mean that intended parents desperate to create a family, are increasingly turning to commercial surrogacy overseas.
Favoured destinations for English intended parents include certain states in the US. Certainly, for those that can afford it, states such as California and Florida offer English intended parents a first-class experience and an American passport for the baby to boot. However, it is very much dependent upon the state in question – commercial surrogacy is still banned in many states, including New York. Although US surrogacy contracts are not legally recognized in the English courts, and consequently neither is the US birth certificate, the transference of legal parentage from the US surrogate to the intended parent(s) in the English High Court is a well-trodden path if skilfully navigated.
The global COVID-19 pandemic has, however, thrown international surrogacy arrangements into unchartered territory. For those at the beginning of a UK/US surrogacy journey, the American Society for Reproductive Medicine have recommended that new IVF treatment cycles be suspended and all fresh or frozen embryo transfers be cancelled. Surrogates who have already undergone the embryo transfer will, however, continue to receive medical attention.
Where the surrogate is pregnant, the obstacles faced by intended parents will depend upon how far the pregnancy has progressed. If the pregnancy is in its early stages, intended parents will be able to continue to liaise with the surrogate and medical professionals via online meetings and also have time to prepare and make plans to circumvent any anticipated restrictions on travel at the time of the birth.
However, for those whose baby is almost due, intended parents will be bound by the latest Foreign Office's Exceptional Travel Advisory Notice advising British nationals against all but essential international travel with (many airlines are now suspending commercial flights). As from 16 March, it has not been possible for British nationals to enter the USA except in a number of specific categories, and even those allowed to must do so through one of the 13 designated airports and may be required to self-isolate for 14 days. See the latest British and US government advice https://www.cdc.gov/coronavirus/2019-ncov/travelers/from-other-countries.html and US Department of State's website
Those intended parents whose baby has been born, should be able to rely upon the latest exemptions on travel restrictions which relate to those having immediate family in the US (although it is probable that they will have to be quarantined if coming from England). However, if they do face a delay entering the US once their baby is born, they should continue to take steps to protect their child and their legal status as parents. Consideration will need to be given as to who will care for their child in their absence. It may be possible to reach an agreement with the surrogate to continue to care for the child in the interim. In any event, it would be necessary to formalize any such temporary guardianship agreement so that it is legally recognised and enforceable in the state in which your child has been born. Furthermore, intended parents are always advised to commission a specialist will along, with tax and succession planning to ensure your wishes are followed.
Ordinarily, a baby born via a US surrogacy arrangement has the added advantage of being eligible for a US passport (on an expedited basis) within days of both the Final Parental Order being granted and then the birth certificate being subsequently issued. Previously, this has allowed the parent(s) to travel home with their newborn swiftly after the birth. Currently, however, the US government will only issue US passports to newborns on an expedited basis in a "life or death situation", meaning those who do not fall into this category will have to wait the standard time (possibly one or two months) for their baby's passport to be processed.
For those currently stranded in the US with their baby and unable to return home on a commercial flight, hope may be on the horizon. The Foreign Office has, as of 30 March, announced a £75 million airlift initiative that should bring thousands of Britons back under a new arrangement between the government and airlines.
Once intended parents return to England with their newborn child, they can be reassured that their application for an English Parental Order will be processed, although delays can be expected. It is hoped that the court will prioritise these applications so that they are processed within the six month deadline after the child's birth. Since 23 March, the Parental Order Reporters at CAFCASS have introduced video conferencing in order to undertake their welfare checks on the baby at home with the intended parent(s), and it is anticipated that the High Court will conduct Parental Order hearings remotely.
In this uncertain time, it is more important than ever to seek up to date specialist advice. Being fully informed will help both the intended parents and the surrogate cope, allow them plan as far ahead as possible and take interim steps to best protect their legal parentage and their child.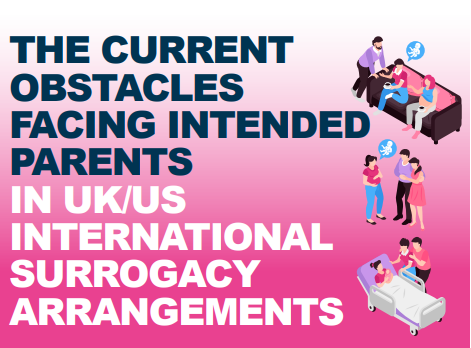 Author
Sarah Williams - Payne Hicks Beach

Our HNW Divorce Community Partners