Knowledge Hub
Join the Conversation!
Impartial and independent, ThoughtLeaders4 HNW Divorce Knowledge Hub hosts cutting edge industry content and insight.
Email maddi@thoughtleaders4.com to submit content.
Urgent relief and the practical implications of social distancing: business as usual, but not as usual
Date: 12/05/2020
Type: Articles
Topic: FIRE | Enforcement | HNW Divorce | Finances |
Introduction
A flood of material released by the courts of England and Wales has ensured that the message has quickly spread that, while it may not be quite as usual, every step is and will be taken to ensure that court business continues.
This response is reassuring, in light of the serious challenge COVID-19 presents to every fabric of our lives – a challenge that might act as a foil for bad actors who see an opportunity to evade enforcement, or sparking new reasons for people to breach court orders.
Still, there is no doubt that all courts (in England and overseas) will be under considerable strain. Lawyers will need to be even more prepared, particularly when dealing with urgent applications, where delay may have significant consequences.
English / Family Court approach
The Family Court's guidance is "Keep Business Going Safely", which works not just as an objective but also an imperative.
The default position is that all Family Court hearings are to be conducted remotely or on the papers. That said, an in-person hearing may still occur "if a remote hearing is not possible" and if suitable arrangements can be made to ensure safety (including maintaining social distancing). While it is unclear what constitutes "impossible", practical concerns alone will not be sufficient, as is clear from the efforts of Mr Justice Mostyn to conduct an entire three-day hearing (complete with 11 factual and three expert witnesses) over Skype for Business following the introduction of social distancing measures.
If resourcing becomes an issue, priority will be given to urgent applications, such as injunctions, and these will be heard remotely using video links and e-bundles.
Changes in legal approach
While (as at the end of March) there is yet to be a reported case of urgent interim action determined in these new circumstances, such applications are made relatively frequently in the family context (see Akhmedova v Akhmedov [2019] EWHC 3140 (Fam)*, and most recently YM v NM [2020] EWFC 13).
It seems unlikely that the new environment will trigger any change in the law, but it may affect its application - for example, the balance of convenience for injunctions, or the content of the orders themselves (ensuring appropriate safety measures in a search order, for example). No doubt there will be those creative enough to run such novel arguments.
Practical concerns
Setting up technology for hearings will require lawyers to be patient and communicate with all parties, and begin preparations much earlier. This is not simply matter of practicality – urgent applications, in particular for worldwide freezing orders, may be barred if not brought within a timely manner.
In essence, the objective should be to make remote hearings as close as possible to the usual 'live' court, including enabling the proper participation of the judge, advocates and witnesses, and making sure journalists and members of the public are able to "attend" the hearing.
Some key practical issues counsel and solicitors will have to face are:
Creating the online courtroom: Parties are no longer just in charge of preparing the documents and arguments for the Court, but in effect the courtroom itself. The Ministry of Justice is accelerating the roll-out of a centralised, cloud-based system for remote hearings. Until then, other platforms will be used. While the judicial laptops have Skype for Business installed, the court is open to alternative platforms (including Zoom) to be arranged by the parties.
E-bundles: Again, there is no mandated e-bundling method or platform. It is likely that where a judge (or indeed counsel) has not previously used a particular platform, training will be necessary and factored into preparations. Counsel will need to work with clerks and judges to manage any issues or limitations (whether technical and user).
Open court: Parties will have a greater role in aiding public access to proceedings. This will include liaising with court staff to ensure the daily court lists contain information on remote access, as well as directly contacting the media to notify them of the hearing.
Again, all of these issues must be given even greater care and consideration for urgent applications, where time is of the essence.
Enforcement overseas
Similarly, there will be practical implications in other jurisdictions where the respondent may have assets, and enforcement is sought. For example, obtaining recognition of freezing orders in a particular jurisdiction may now have practical considerations to address in light of the approach courts in that country have taken in light of COVID-19?
A number of jurisdictions have taken a more restrictive approach than the English courts, reducing capacity to urgent matters only. Whether a particular enforcement application falls within that jurisdiction's scope of 'urgency' will depend on the jurisdiction and the nuanced arguments practitioners may advance. For example:
All Cypriot hearings are to be suspended until the end of April, however applications for interim orders in civil cases will be heard "in cases of extreme urgency", which "shall be decided by the competent Judge, from whom prior special leave shall need to be obtained".
French courts have advised that only "essential" litigation will proceed.
In Russia, until 10 April 2020 courts will only consider the most urgent cases set out in a non-exhaustive list, in a simplified or default format.
In this new world, it will be even more important to ensure that every requirement for such relief is met. The advice and instruction of local counsel will be crucial.
Parties must carefully and continuously consider their litigation strategy during this period of rapid change, keeping up-to-date with the most recent advice given by the courts, and thinking laterally.
In the end, no matter where or how a litigant approaches the courts for urgent interim relief, it seems clear that having an experienced practitioner who is used to dealing with such matters will be crucial to seeking to ensure a client's objectives are met.
PCB Litigation LLP is a boutique dispute resolution firm, specialising in asset recovery, fraud and commercial disputes, including enforcement of Family Financial Orders.
*PCB Litigation act for Ms Akhmedova.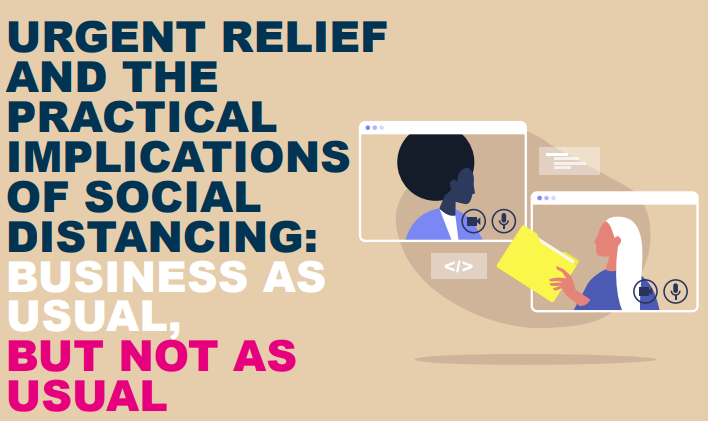 Author
Catherine Eason & Andrew McLeod - PCB Litigation

Our HNW Divorce Community Partners