Knowledge Hub
Join the Conversation!
Impartial and independent, ThoughtLeaders4 Private Client Knowledge Hub hosts cutting edge industry content and insight.
Email maddi@thoughtleaders4.com to submit content.
60-Seconds With: Emma Taylor, Associate, Collas Crill
Date: 05/01/2022
Type: 60 seconds with Community Magazine Interviews ThoughtLeaders 4 Content
Topic: Private Client | Trusts | Wills and Estates | Inheritance | Next Generation Wealth | Investment and HNWI's | Tax |
Q) What is your key area of practice?
A) Commercial Dispute Resolution focused on Contentious Trusts in Guernsey and the BVI.
Q) What are you most going to focus on in the next 12 months?
A) My main focus is going to be trying to pass the Guernsey Bar Exams to qualify as a Guernsey Advocate, but I also have a number of big deadlines coming up over the next 12 months which will no doubt keep me busy when I am not studying!
Q) What do you see as the biggest upcoming challenge you face as a practitioner?
A) Trying to juggle studying with work is going to be my personal biggest challenge. I'm fortunate that Collas Crill have been really supportive with studying while working.
Q) Why did you choose to attend TL4 x ConTrA's Private Client Summer School and what did you achieve from attending?
A) To have an opportunity to network in a more informal and friendly way. I've definitely picked up some networking skills which I hope will keep me in good stead for the future.
Q) How did it feel to be back at a physical event?
A) Great! My last in-person event was the ConTrA seminar in March 2020 and so it was nice to kick-off the first in-person event with ConTrA.
Q) What was your key takeaway from any one of the sessions at Private Client Summer School over the 2 days?
A) Not from one session – but I enjoyed seeing the different presentational styles people took. There were lots of different formats, which I hope will be of assistance for any future presentations that I need to give.
Q) What would you say to people thinking of attending one of our summer schools in the future?
A) I would say try and attend if you can. It's a great way to meet other lawyers of a similar level and the social events are pretty fun too!What does the perfect weekend look like?Nothing beats a sunny day in Guernsey with a walk to Fermain Beach for a glass of wine with lunch and a swim if you are feeling brave!
Q) What is the one thing you could not live without?
A) Food. Stating the obvious, but I am a massive foodie and I am really enjoying the ability to travel to the UK again to try new restaurants.
Q) Who would you most like to invite to a dinner party?
A) Yotam Ottolenghi – in the hope that he may also cook too!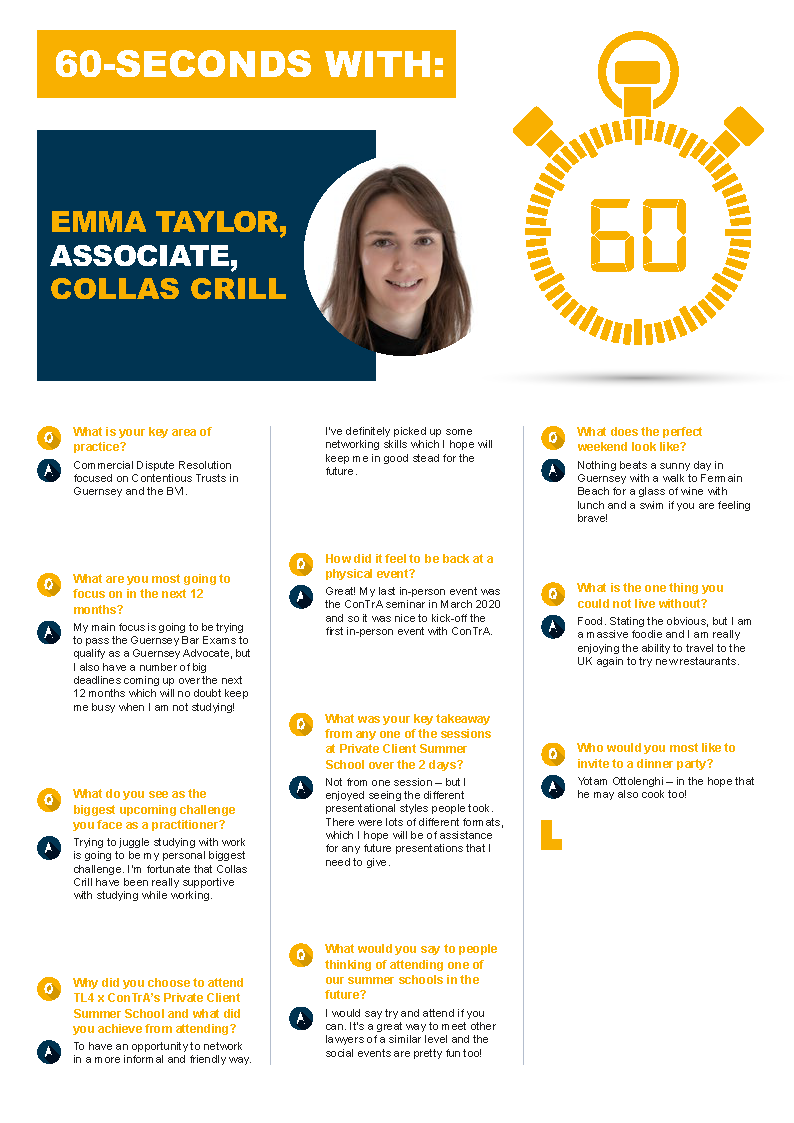 Author

Our Private Client Community Partners