Knowledge Hub
Join the Conversation!
Impartial and independent, ThoughtLeaders4 Private Client Knowledge Hub hosts cutting edge industry content and insight.
Email maddi@thoughtleaders4.com to submit content.
60-Seconds With: Holly Payling, Associate Director, Buzzacott
Date: 05/01/2022
Type: 60 seconds with Community Magazine Interviews ThoughtLeaders 4 Content
Topic: Private Client | Trusts | Wills and Estates | Inheritance | Next Generation Wealth | Investment and HNWI's | Tax |
Q) What is your key area of practice?
A) Private client tax - dual qualified US/UK.
Q) What are you most going to focus on in the next 12 months?
A) Building my portfolio and crypto advice.
Q) What do you see as the biggest upcoming challenge you face as a practitioner?
A) Autonomy.
Q) Why did you choose to attend TL4 x ConTrA's Private Client Summer School and what did you achieve from attending?
A) I chose to go as I wanted to attend an in person networking event. I met lots of new people and broadened my trust knowledge. As I work in private client personal tax I learnt a lot.
Q) How did it feel to be back at a physical event?
A) Amazing.
Q) What was your key takeaway from any one of the sessions at Private Client Summer School over the 2 days?
A) The importance of a watertight Will.
Q) What would you say to people thinking of attending one of our summer schools in the future?
A) Be prepared to meet new people and don't just stick with your colleagues.
Q) What does the perfect weekend look like?
A) Meals in the sunshine and to be by water.
Q) What is the one thing you could not live without?
A) My headphones.
Q) Who would you most like to invite to a dinner party?
A) Leonardo da Vinci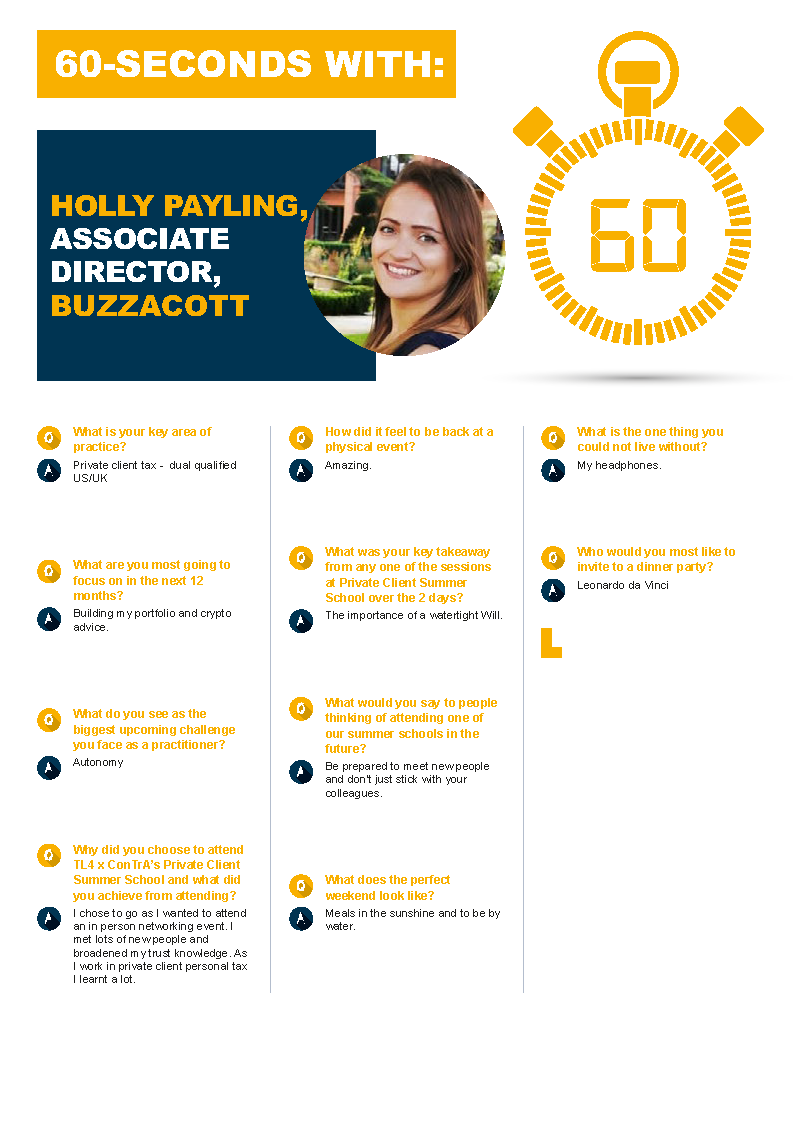 Author

Our Private Client Community Partners