Knowledge Hub
Join the Conversation!
Impartial and independent, ThoughtLeaders4 Private Client Knowledge Hub hosts cutting edge industry content and insight.
Email maddi@thoughtleaders4.com to submit content.
60-Seconds With: Tamsin Wooldridge, Solicitor, Shakespeare Martineau
Date: 05/01/2022
Type: 60 seconds with Community Magazine Interviews ThoughtLeaders 4 Content
Topic: Private Client | Trusts | Wills and Estates | Inheritance | Next Generation Wealth | Investment and HNWI's | Tax |
Q) What is your key area of practice?
A) Contentious trusts & probate
Q) What are you most going to focus on in the next 12 months?
A) Networking
Q) What do you see as the biggest upcoming challenge you face as a practitioner?
A) Increased reliance on technology and the potential hurdles if that technology fails
Q) Why did you choose to attend TL4 x ConTrA's Private Client Summer School and what did you achieve from attending?
A) I chose to attend as I thought the agenda looked interesting and I wished to develop my knowledge of both the contentious/non-contentious side of private client. I felt that the School provided me with a nice mix of refreshing my knowledge whilst teaching me new things that I have not had exposure to previously.
Q) How did it feel to be back at a physical event?
A) Enjoyable to be back out socialising and meeting new people
Q) What was your key takeaway from any one of the sessions at Private Client Summer School over the 2 days?
A) Never be afraid to ask questions – whatever level of your career you are at.
Q) What would you say to people thinking of attending one of our summer schools in the future?
A) A great opportunity to expand your network, improve your current knowledge and learn new things too
Q) What does the perfect weekend look like?
A) A mixture of seeing friends, exercising and relaxing at the Spa.
Q) What is the one thing you could not live without?
A) My kitten – Taylor Squish
Q) Who would you most like to invite to a dinner party?
A) Mo Farah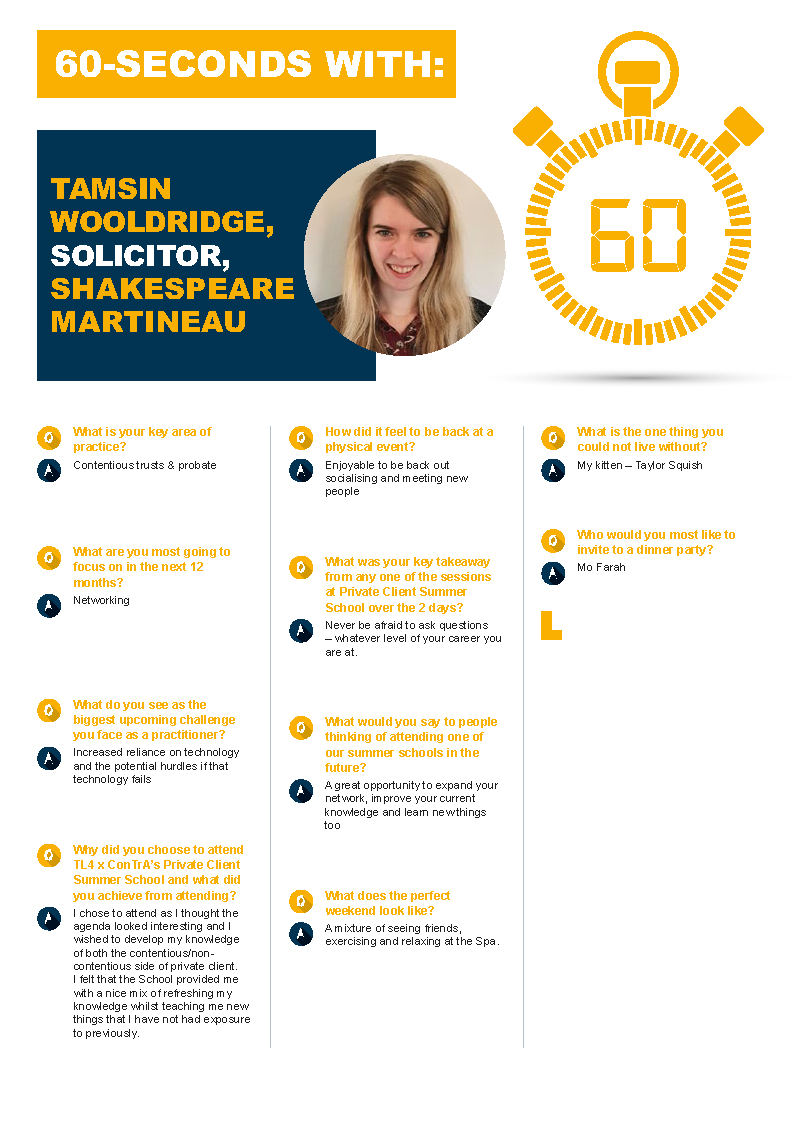 Author

Our Private Client Community Partners