Knowledge Hub
Join the Conversation!
Impartial and independent, ThoughtLeaders4 Private Client Knowledge Hub hosts cutting edge industry content and insight.
Email maddi@thoughtleaders4.com to submit content.
Coronavirus' impact on HNWs advice
Date: 12/05/2020
Type: Articles
Topic: HNW Divorce | Finances | Modern Family |
The Coronavirus pandemic reminds us of Simone de Beauvoir's "All men are mortal".[1] Both encourage us to re-evaluate our priorities, prompting us to seize new opportunities otherwise ignored under the "business as usual" regime. We come to humbly share our experience of the past extraordinary days, while also looking ahead to the challenging weeks to come. How can we best nurture the trusted relationship we are privileged to have established with our HNW clients during this crisis? What meaningful advice can we offer them as to COVID-19's impact on their personal life and business operations alike?

In these challenging times, our clients feel vulnerable and need more than usual to feel supported, listened to and accompanied. This means that, as their trusted advisors, we should in turn be as responsive, reachable and attentive as possible, showing empathy and personalising our advice even more than usual. Advisors will emerge unequal from the crisis. Those who will have been proactive and who have tailored their assistance to their clients' specific needs will gain an exponential competitive advantage to average peers who have simply responded to client queries without going the extra mile of a true counsellor.

« All these husbands and wives who travel will now have to spend time with the person they're married to ».[2] With stay home orders almost universal, most of our clients must readjust to existing relationships more intensely; the same of course holds true for most of us. Some may see this a welcome respite from an otherwise hectic life. Many may find it difficult to face the relative inactivity of confinement, away from reassuring professional and social routine. Add the anxiety prompted by plummeting financial markets and their impact on our clients' portfolios; and you have an explosive cocktail for a personal crisis in a relationship, possibly aggravated by health issues related to stress (currently unlikely to deserve much attention from the medical community, understandably focusing on more pressing priorities).

Against this background, (legal or other) advisors to private client have a unique opportunity to position themselves as life counsellors beyond the turf so far entrusted to them. With respect and tact, let us reach out to our clients, ask how they are coping with confinement, share our own personal experience and, through such personal interactions, build a deep and enduring personal relationship. Crises often pave the way for restructuring – not only in the corporate world. Being close to our clients now will often give us access to information hitherto withheld from us, not intentionally but simply because the context didn't allow or call for disclosure. By way of example, clients may report how supportive a spouse or child is in these difficult times, or on the contrary how disappointed they are by a family member – be it for the sharing too many insensitive COVID jokes by WhatsApp! While the seasoned advisor will let the dust settle before possibly recommending any action, he/she should nevertheless make a note of his client's current experience with his relatives, a fertile soil for future advice, e.g. in estate planning, once life will have returned to normal.

Private clients do not only have changes in their personal life and their finances to deal with during confinement. Many run companies they own, with as many challenges as employee safety, reduced work time, access to state support schemes where available and more generally business continuation (read survival). These difficulties are those faced by us advisors as well of course, and what we learn and apply to our own firms can serve likewise and immediately to our clients. Proactively checking on entrepreneurs and offering to share our experience (as opposed to immediately selling our services) in these extraordinary times can cement existing relationships; someone facing hardship will always remember support shown in times of adversity.

Also, and without ignoring the difficulties of those who cannot implement remote work in their businesses, the drastic changes imposed by the confinement paradoxically allow for cost reductions and efficiencies in day-to-day operations. We can help our clients in this process by highlighting what works particularly well in their remote work organisation and suggesting amendments or adjustments where we notice room for improvement. They will be grateful for the praise and the optimisation advice alike and feel that we care for them and their undertakings.

Do you remember of how often you dreamt of a week of Sundays only? We should seize this unique opportunity of a forced slowdown to reflect on the meaning of life in the private and professional spheres and invite those of our clients we know well enough to try doing the same. We, and they with us, now have the time to honestly assess what really matters and what doesn't work. We can emerge from the crisis with a new focus and reloaded batteries to strive, once restrictions will have been lifted or a least eased. The new start will be intense and full of unexpected opportunities. Let us seize them together.
---
[1] Tous les hommes sont mortels, published in 1946.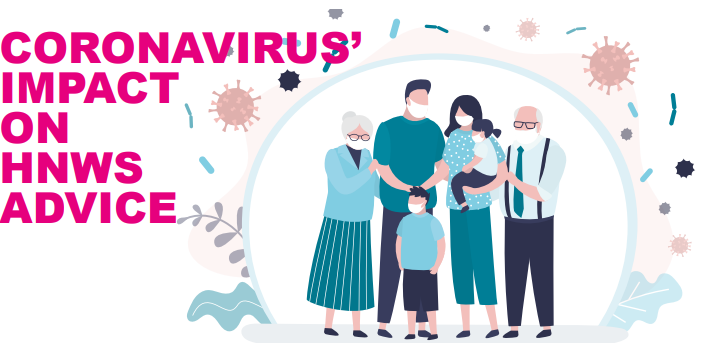 Author
Alexander Troller & Joséphine Auberjonois - Lalive

Our Private Client Community Partners