Knowledge Hub
Join the Conversation!
Impartial and independent, ThoughtLeaders4 Private Client Knowledge Hub hosts cutting edge industry content and insight.
Email maddi@thoughtleaders4.com to submit content.
Private Client Magazine Issue 12 - Next Gen Wealth Edition
Date: 03/11/2023
Type: 60 seconds with Articles Community Magazine Main Issue Featured Article
Topic: Private Client | Trusts | Wills and Estates | Inheritance | Next Generation Wealth | Investment and HNWI's | Tax |
We are delighted to present Issue 12 of our Private Client Magazine, the Next Gen Wealth Edition. This issue will feature articles on how the Gen Z'ers navigate wealth succession. Our authors will provide you with an insight into why innovation,philanthropy, family values and influence matter. The articles will further highlight the different generational attitudes towards wealth.
We would like to thank our community partners and contributors for sharing their outlook on the factors that drive the next generation.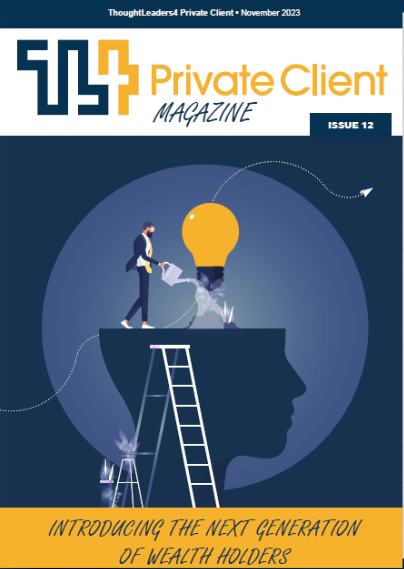 Author
TL4 Private Client

Our Private Client Community Partners