Knowledge Hub
Join the Conversation!
Impartial and independent, ThoughtLeaders4 Disputes Knowledge Hub hosts cutting edge industry content and insight.
Email maddi@thoughtleaders4.com to submit content.
Disputes Magazine Issue 6 - Financial Institutions Litigation
Date: 30/09/2022
Type: Articles Community Magazine Main Issue
Topic: Disputes | Shareholder Diputes | Digital Dispute Resolution | Libor | In-House | Crypto | International Arbitration | Litigation Funding | Future of Dispute Resolution |
We are delighted to present Issue 6 of Disputes Magazine, which discusses Financial Institutions Litigation ahead of the Financial Institutions Litigation Conference on 19th January 2023. In this edition, our authors cover a variety of topics affecting the financial services sector including the recent Tecnimont v Natwest decision, the new FCA consumer duty, audit reform and more.
Thank you to our community partners, members and authors for their continued support. The Disputes community is loaded with events for the rest of 2022 and into 2023, and we hope to see you there.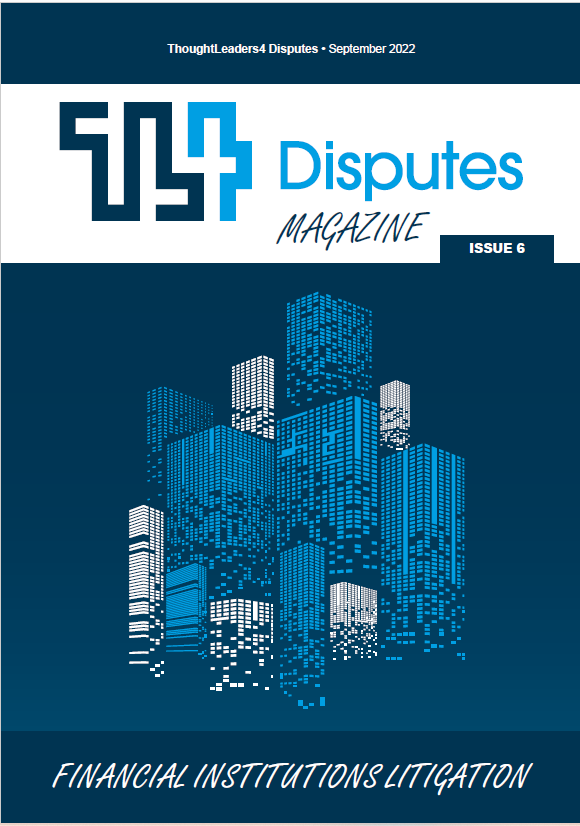 Author
ThoughtLeaders4 Disputes

Our Disputes Community Partners