Knowledge Hub
Join the Conversation!
Impartial and independent, ThoughtLeaders4 Disputes Knowledge Hub hosts cutting edge industry content and insight.
Email maddi@thoughtleaders4.com to submit content.
Disputes Magazine Special Edition: Sovereign and States Disputes and Enforcement
Date: 20/11/2023
Type: 60 seconds with Articles Community Magazine Main Issue Featured Article
Topic: Disputes | Shareholder Diputes | Digital Dispute Resolution | Libor | In-House | Crypto | International Arbitration | Litigation Funding | Future of Dispute Resolution | Witness Familiarisation | ESG |
We are delighted to present a Special Edition of Disputes Magazine: Sovereign & States Disputes and Enforcement. This edition explores a range of geographies from various practitioners. This issue includes articles on sovereign debtors, international arbitration, and tackles the jurisdictions of Switzerland, Venezuela, Luxembourg, the USA, Spain, and more.
Thank you to our community partners and contributors for their support.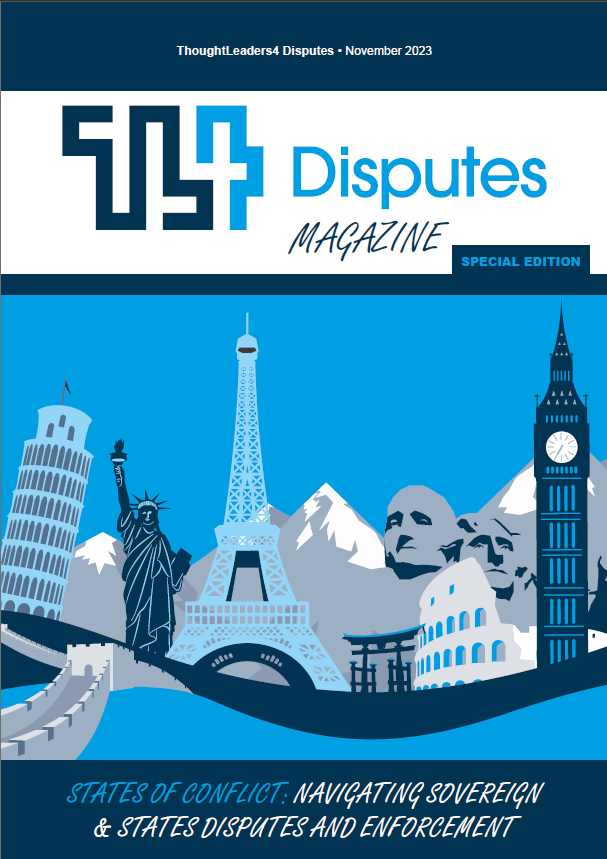 Author
TL4 Disputes

Our Disputes Community Partners